2019 SkillsUSA State Leadership & Technical Contests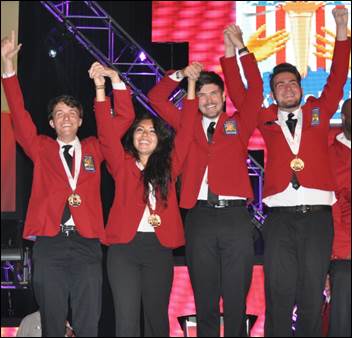 The Delaware SkillsUSA State Contests are being planned at sites throughout the state in the month of February. We are planning for students, advisors, and judges that represent business and industry from throughout the state to participate in nearly 65 state contests. More than $875,000 in student scholarships and prizes are anticipated from partners such as: Automotive Training Center, Burmax Company Inc., Delaware Technical Community College, G & E Welding Supply, Universal Technical Institute, IBEW Local 313, Keen Gas Company, Lincoln Electric, Lowe's, Miller Electric Manufacturing Company, Restaurant School at Walnut Hill College, and more. The top medalist in each individual contest will be recognized for their outstanding achievement and they may earn the honor of representing the state of Delaware in 2019 at the National SkillsUSA conference to be held in Louisville, Kentucky. Delaware SkillsUSA is a Career and Technical Student Organization (CTSO) that recognizes the
importance of students, teachers, and industry partners working together to ensure America has a skilled workforce. SkillsUSA incorporates curricular and co-curricular experiences to emphasize the importance of knowledge, leadership, skill development, and teamwork.
To learn more about Delaware SkillsUSA, please contact Mike Fitzgerald by phone
at: 302.735.4015 or by email at: [email protected]
2019 Delaware SkillsUSA Planning Calendar
National SkillsUSA Membership Opens
September 2018
Fall Leadership Conference
November 29, 2018
Conference Registration System Opens
December, 2018
Delaware ONLY T-Shirt & Pin Contest Due.

Note: *Top 3 finalists from each school invited to participate in
National TSA T-Shirt & Pin Contest.
December 14, 2018
Conference Registration Closes
January 11, 2019
State Officer Application Due
February 1, 2019
Skilled & Technical Contests @ Host Contest Locations - TBD
February 1-22, 2019
Invited National TSA T-Shirt & Pin Contest Entries Due.
February 22, 2019
Occupationally Related Contest Day @ POLYTECH
February 11, 2019
Leadership Contest Day @ Polytech
February 13, 2019
National SkillsUSA Membership Due
March 1, 2019
Registration/Payment for Awards Banquet Due
March 8, 2019
Delaware SkillsUSA Awards Ceremony @ Howard Vo-Tech High School
March 13, 2019
National Leadership & Skills Contest Rooming List Due
May 17, 2019
National Leadership & Skills Contest Registration Due
June 7, 2019
National Leadership & Skills Contest Hotel Payment Due
June 7, 2019
National Leadership & Skills Contest @ Louisville, KY
June 25-29, 2019
2019 Delaware SkillsUSA Leadership & Technical Contest Planning Resources
2019 National SkillsUSA Leadership & Technical Contest Planning Resources