Spring Leadership Conference
This year's Leadership Conference took place on March 20, 2015 at the Modern Maturity Center in Dover.
State Award Ceremony
This year's SkillsUSA Reception & Awards Ceremony took place on April 1, 2015.  It was at the Modern Maturity Center with the reception beginning at 5 PM.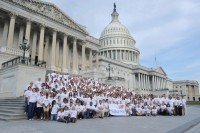 National Leadership Conference
The 2015 National SkillsUSA Conference will be held in Louisville, KY from June 22-26.  Stay tuned for more information as the conference approaches!